"Many green investments help save the planet, but they can also save you money over time as you spend less on energy or water," said Redfin chief economist Daryl Fairweather. "Even if you decide to sell your home in a few years, potential buyers may be willing to pay more for your home if they know that their energy or water bill will be less than home next door."
How we build our homes impacts the health of everything around us. They can be costly to maintain and emit substantial waste. Green initiatives, however, can offset those consequences by using fewer resources. Some are simple swaps while others are long term investments that will ultimately save both money and valuable resources.
Read on to get started with eight ways to transform your home to be environmentally friendly, with insight from Redfin experts.
1. Use Locally-Sourced California Materials Often
Whether you're thinking of materials for home furnishings, kitchen supplies, or even your own clothing and accessories, using sustainable, locally-sourced materials is great for the environment. You can also look for products that use re-purposed or reclaimed materials in their makeup. These days, there is a growing trend for architects and contractors to use these materials as much as possible in new construction and renovation projects.
2. Incorporate Energy-Efficient Appliances and Systems
Refrigerators, dishwashers, and ranges get frequent, if not constant use in our homes. If you're looking to purchase a home or upgrade your existing appliances, look for Energy Star certified ratings. These certify that your appliance meets the standards set by the US Environmental Protection Agency, using less electricity. You can also utilize smart home technology to create a system that conserves energy all around – in your cooling, heating, and lighting systems.
3. Go Solar.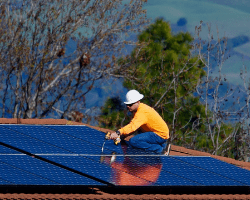 If you want to boost your home's energy-saving potential, the installation of a California solar system is the way to go. Once your initial investment is made (which can be financed), harnessing the sun's power is free. With a decades-long warranty and maintenance-free equipment, using solar energy is an easy way to make a positive impact on the environment. Having a solar panel system in California that generates power to backup batteries has a huge impact as well. If you're looking for the best solar company in Northern California, we'd love to chat with you about implementing solar energy at your home,
4. Electric Vehicles are Eco- and Wallet-Friendly 
Using an electric car is great for the environment (since it doesn't emit harmful exhaust fumes which contain carbon monoxide), but it can save you serious cash as well. If you own an electric vehicle and charge it at home, your annual cost to operate your vehicle will be about the same as operating an air conditioner! It's even better if you use solar panels at home to power the charging station.
5. Efficiency Matters in Cooling and Heating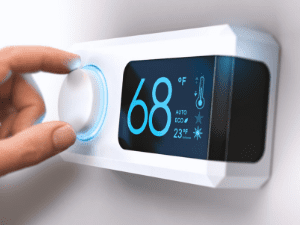 When it comes to maintaining a comfortable temperature, at home, it is common to let energy "fly out the window" as it were. One common culprit is poor insulation. Having proper levels of insulation is vital to keeping energy expenditures down. Also helpful on those hot summer days are reflective UV coverings for your windows. Acting like SPF for your home, they reflect ultraviolet rays that will keep your home cooler and reduce glare.
You can also reduce your carbon footprint by only heating the rooms you are using. Replacing a whole-house system with a mini-split electric heat pump can allow you to use much less energy. You won't waste energy heating empty rooms.
6. Water is Precious
Droughts can be extremely common in California, and we all can agree that water is a precious resource. Invest in water conservation tools at home, as well as a smart irrigation system which can be tailored to your own soil and light conditions.
7. Use Energy-Efficient Lighting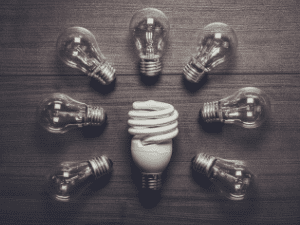 LED bulbs are a smart way to light your home. Because they are highly energy-efficient and have a longer lifespan than traditional bulbs, they're a smart choice that reduces energy consumption – and energy costs. Also, don't be afraid to open those curtains or blinds and let the sunshine in. Using the sun's power to light your home is a smart choice.
At Synergy Power, we care deeply about preserving Earth's natural resources. We know solar energy has the power to save our customers money, as well as open up a brighter future for tomorrow. There are so many benefits of going solar in California, and we'd love to talk to you about them. We proudly serve California residents from Oakland to Fresno, Pine Grove to Marin County. If you live in Northern California, we want to be your solar power company. Contact us for more information, a complimentary solar quote, or to get started on the process of saving money with solar.
Source: https://www.redfin.com/blog/environmentally-friendly-home-features/