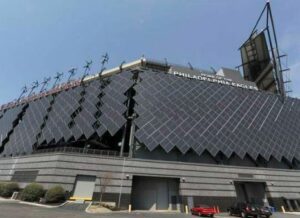 In 2016, The Philadelphia Eagles installed 11,000 solar panels at their playing facility, Lincoln Financial Field. They won the Superbowl last year.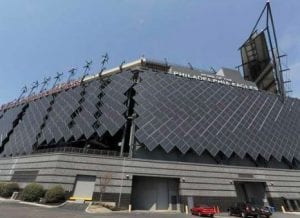 In 2010, the Golden State Warriors put more than 500 solar panels on top of their practice facility in Oakland. They had a rookie guard that season named Curry. He's worked out well, and the Warriors have won 3 of the last 4 O'Brien Trophies. In 2007, the San Francisco Giants installed nearly 600 solar panels at AT&T Park. Then they won three World Series in seven years. Solar. Winning. Coincidence?
No Offseason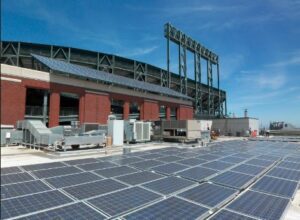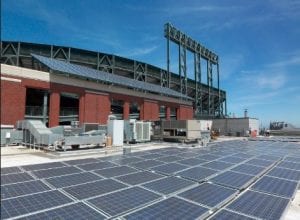 Baseball, Football, Basketball. Yay sports year-round. Ironically, the last thing we want to see on a field of play is anyone conserving energy. We want unlimited, inexhaustible exuberance. But we also want to see that effort focused; economy of motion. We even pay to see it done well. The cliché is that sports is an analogy of life. So? So solar. Using power well & wisely is appealing. Year-round. Sports is the expenditure of energy in a magnifcent way. For all the chasing, jumping, backpedaling, sidestepping, falling & colliding, nothing is wasted, even in the so-called offseason.
How Much Does Solar Cost? Less. Unless…
Many of us prefer pricetags to haggling. We want to know what something costs without people calling & selling us. So why is the ticket on a solar array hard to come by? Because solar is like dinner out, or taxes, or getting a car. Lots of variables. We're not being obtuse on purpose. A family in a 2000 square-foot home in Lodi may gobble up two or three times as much voltage as the family next door in the same size house. Local, state and federal rebates, incentives, tax credits, & seasonal discounts cause costs to fluctuate. Who is your utility company? These facts factor.
So how do I get a number? Call this number: 866.447.9637. Don't roll your eyes- we value time (and privacy) as much as you do. Have a copy of your utiity bill, and we'll get you hard numbers without a hassle. We don't give ballpark figures, unless it's for a ballpark. And the Warriors' system is likely a lot bigger than you're going to need.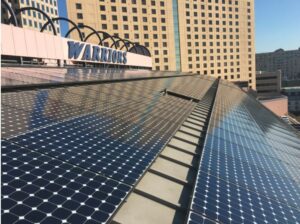 We take your last 12 months' utility costs, have a look at your roof in person or on Google Earth to check size, shape, shingles, shade & azimuth, (defining that word is almost its own blog), and then draw a system exactly the right size to meet or exceed your current and future needs. Even if you're 'just looking' at the moment, the free site analysis is a valuable research tool no matter what you decide to do. Or not do.
So our best answer to the question, "How much does solar cost?" is: "Less than you're paying now." Unless it isn't. If we can save you money versus what you're currently spending, we'll let you know how much. If we can't, we'll let you know why not. In many cases the savings are significant. We welcome the chance to explain. Briefly.
Give Solar a Sporting Chance
Sports are enjoyable even when we can't play like we used to; even if we never could. It's a delight to watch the pros do their thing. If you're able and inclined to design & build your own solar system, take the shot, go long, swing away. If you'd rather (or need) to get into the game with your feet up and the remote, turn to channel hello@synergy.power, or punch in 866.447.9637. If nothing else, we can compare stats. -Lee Stilwater