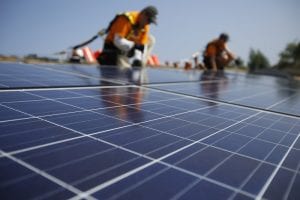 We ask two questions early & often when it comes to home improvement: 'How much does it cost?', and 'How long will it take?' We justify the hassle & expense of a kitchen remodel by dwelling on the fashion, function, and increased home equity at the end.
Solar is different. And the same. We don't call it fashionable or trendy, although you can dress & decorate more stylishly with the extra cash solar affords you. As to function, solar is very similar to a new kitchen or bath. Life is better. When it comes to inconvenience, there is NO comparison.
The Doing
We average two days per install. Your home has electricity while we work. We get on (the roof), get done, get gone. The most annoying feature (for you and us) is waiting for the utility to come to grips with you leaving them. They're so clingy. Most systems can be turned on remotely within hours of this 'permission-to-operate' (PTO) approval. A cool and free app montitors system performance on your mobile device. We'll show you how.
The Planning
After getting your electric usage and determining current and future energy 'appetite', we draw an array based on the location, angle, and condition of your roof. We assess the electrical panel, and consider factors such as shade and climate. When you decide to go for it, we apply for permits. There is a law in California requiring the majority of roof-mounted solar to be permitted in a timely fashion, but various municipalities define 'timely' in various ways. Things are getting better. Meanwhile, we keep after it, and in touch with you. So far, you're personally only a couple of hours invested, aside from whatever individual research you feel like doing.
The Finishing
Once the permits are approved, we order, deliver, and install your panels. The entire process, from "Let's do it!", to electrical independence, usually takes 12-24 weeks, depending on the factors sketched here. Your home is without power for just a few minutes at the end of the project. And 99% of the work is done on top, not inside, of your house. Your life is not on hold, your routine is not derailed, your place is not a mess. When it comes to cost, comfort, and convenience, this is the one home improvement project that doesn't sting. Do solar. And do well.