Solar for Your Northern California Home
If you're a homeowner from San Francisco to the San Joaquin Valley, Synergy Power believes that making the switch to solar should be easy, not complicated. Whether you want to purchase or lease your solar array, we have unique options that you can choose from, and give you help in deciding what's right for your own needs. Plus, you'll get the peace of mind in knowing that we provide every aspect of installation ourselves. We don't hire subcontractors.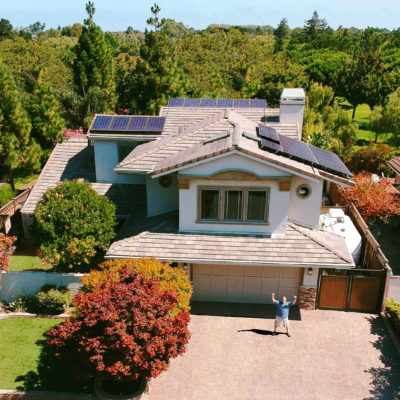 Affordable Solar for Bay Area Homes
PG&E utility rates have tripled in the last 18 years. But the cost of solar power has actually dropped! When Synergy started installing solar arrays in Livermore in 2004, the average cost was $9.00 per kWh. Now it's less than half that – plus the government reimburses you with a hefty tax credit!
How Solar Saves You Money Every Month
Let's look at an example of how solar can save you money, even with an inital investment. If you are a homeowner and want to purchase a $20,000 solar array, in 2020 your California tax credit will be $5200 (26%). This leaves you with a balance of $14,800. Most homeowners then finance this balance, leaving them with an easy-to-manage payment. One scenario could be an 8-year loan at 5% interest, leaving the homeowner with a payment of approximately $187. That payment will never go up, and at the end of 8 years, your solar array will belong to you, payment-free.
Can PG&E promise you constant rates on your electric bills? If you live in Northern California, you KNOW that your rate goes up on a regular basis, and will continue to rise in the future. Going solar means you will lock in your electricity cost — and the massive rate hikes stop! 
Bay Area homeowners: What do your actions teach your grandchildren? Let the lesson be this: "No matter what my neighbors do, I'm not willing to burn fossil fuels. I want clean renewable energy. I want to leave a better world for the ones I love. I believe in doing my part."
It's a beautiful truth: in any Northern California area, from Sacramento to San Jose, going solar can lower your energy costs NOW. The average solar-going homeowner pays a reasonable monthly cost, and has their system paid for in 7 years. Instead of paying PG&E indefinitely, the homeowner recouped their solar investment and lives payment free.
What will your legacy be? Go solar. Save money. Leave a legacy. 
Remember those blackouts in California? Many of us do. But guess what, solar has completely fixed that! Solar is installed in the smartest, most energy efficient location, right where it's consumed. Energy plants, are typically hundreds of miles away from where the energy is consumed. Utility companies have shown they only care about their bottom line. We need energy installed right where it's needed! Going solar helps stabilize our energy grid. Systems being installed today help provide important grid services, such as boosting grid voltage. They are smart devices that help in many more ways than just provide energy. 
The federal government currently offers a 26% solar tax credit. It is important to note that as a renewable energy credit, and not a deduction, you will receive the 26% back on your federal taxes (through 2021). Customers who lease solar panel systems cannot outright claim the federal tax credit, but the benefits are passed to them from the system's owner/installer, lowering their monthly payment substantially.
Interested in our Services?
Contact us Today!
We'll reach out to you shortly.