It's an unfortunate truth: blackouts have become part of life for us in Northern California. Power outages can last for up to several days, depending on weather conditions. As residents, we suffer the effects of loss of power: from inconveniences to life-threatening consequences. Fortunately, homeowners can take their power back … and Synergy Power can help. 
Blackout Immunity: Store Your Solar 
We can blame hot and dry weather for power outages, but those same sunny days are what bring power to our homes and communities across Northern California. Homeowners and businesses alike can become less and less dependent on public utilities, relying on solar power for the majority of the day … and saving money in the process. 
But what about when the sun goes down — those peak usage hours when we rely on electricity the most?
Residents who rely on power for medical equipment or home security systems cannot simply wait it out.  At one time, generators seemed to be the answer for emergency outages, but the cost of gas or diesel for several blackouts per year is not practical — never mind the environmental impact. There is a much better solution.  Installing a battery back-up system that works in conjunction with your solar panels is an eco-friendly and cost-effective way to maintain power. Power all day, all night … all year.
Consistent Power with NeoVolta
At Synergy Power, we work with several manufacturers to bring our customers the very best in battery backup systems. One such system is made by NeoVolta. The NV14 battery unit by NeoVolta can be a perfect solution for blackouts.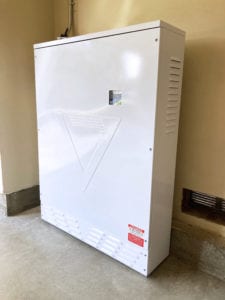 It is the first lithium iron energy storage system to be approved by the California Energy Commission.  Having a battery made out of lithium iron (rather than ion) means that the unit is:
non-toxic, 
less hazardous to dispose of, 
lasts longer, and 
can withstand temperatures up to 140℉.  
Because of this, the NV14 can be installed safely either indoors or outdoors.
Brent Willson (founder, CEO, and fellow Californian) designed the NV14 specifically with the PG&E blackouts in mind. His storage system contains a Rapid Auto Transfer Switch, in which your power automatically disconnects from the grid during an outage and seamlessly begins pulling from the battery. The battery discharges an impressive 7.7kW of instantaneous power and can hold 14.4kW-hours of storage.  
This means that, based on the typical household usage of 500 watts on critical loads, the NV14 can provide up to 28 hours of power. Of course, once the sun rises, the solar panels take over once again and the battery system begins to recharge. 
"When paired with solar panels, an energy storage system can power your home infinitely provided [that the] depth of discharge maximum is not exceeded daily. Though you may be somewhat limited on how much energy you can consume or which household amenities you can enjoy, as long as the sun is shining, you can power your life." 
— NeoVolta.com
Synergy Power Partners with NeoVolta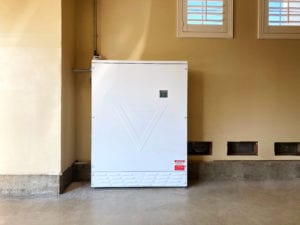 Synergy Power is proud to be affiliated with NeoVolta and to be certified installers of this solar storage system. Whether you would like to incorporate a battery back-up to a preexisting solar panel array, or you are looking for an experienced team to do the entire install of panels and backup, we would love to work with you.  
Our experienced technicians will configure your NV14 battery backup to prioritize your specific power needs during a blackout.  
Solar for Northern California's Future
We expect that the number of blackouts will continue to rise as California's population and energy demands increase. The government has offered tax incentives and a net metering program to encourage residents to make the switch to solar and put less strain on the grid, but these incentives will not be available for long.  
While the current Federal Renewable Energy Tax Credit is still available, and the opportunity to be grandfathered into net metering can lock you into the current rate for the next 20 years, this is the ideal time to invest in a solar storage system. Contact us at Synergy Power to get started.
Ready to get started? Fill out the contact form below and we'll be in touch very soon.