If it's done right, the penetrations a professional solar installer makes on your roof will keep moisture out longer than your roof will, in much the same way the best welders proudly proclaim (and prove) that their bead of material is stronger than the pieces of metal they sew together. Here's the deal:
 Whether it's restaurants, roofers, or retailers, these days we do reviews. It's quick, easy, free, and a fairly good competence barometer. A good plumber will not leave you with a leaky faucet…for many years. A good solar team will not leave you with a leaky roof. At Synergy Power, we believe that the more scrutiny you do, the better we'll look. 
Solar is not a typical DIY project. It is complex, requires lengthy training with both books and toolbelts, and is very unforgiving of mistakes. Many of us here at Synergy Power have deep backgrounds in construction, and have found that expertise in the solar field has been the most challenging to acquire. And now we have it. Our journeyman installers average nearly a decade each of experience in the trade. We aren't experimenting at your house, using your roof as our rehearsal for a real gig. Trial and error? 'Avoid errors, avoid trials' is 'how we roll.' We guarantee 25 dry years, and will pay you a $500 'sorry for the annoyance' fee if we have to come out and do a repair…On top of whatever the repairs cost, whatever that is: We don't know- haven't had to do one yet. Thanks.
Any roof, any angle- Concrete tile, lightweight tile, composition, metal tile, wood shake, foam, TPO, built-up, torch-down, rubber membrane, etc. We know how to put solar on it. Read on if you'd like to talk a little shop…Otherwise, let us worry about the nuts and bolts of it, and maybe check a website where you plan to spend the money you'll save by doing solar.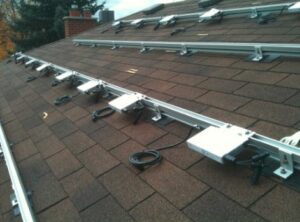 Each roof requires different methods to properly waterproof the solar penetrations. Whether it's composition where we'd likely use brands like Ironridge or Quick Mount PV, or tile hooks on a tile roof, the product isn't the only concern. Hardware needs to be installed correctly based on what are called 'roofing best practices.' It is exceedingly difficult to see a potential leak. Usually the first clue is
water on the inside. Way too late. Our solar installers are trained and certified to work with specific products. We've learned to use, but not entirely rely, on what we can see. Like pilots, we use instruments to augment our senses. Most of this never gets discussed, because it isn't compelling conversation. We do it here because we prefer due diligence to the very compelling, and often loud & litigous conversation, that takes place over a water-damaged home. Thanks for chatting. We like it much better than arguing.   
So what to do? Ideally, hire Synergy Power. If you do go another route, a great filter for expertise is: Look for a NABCEP certified installer. It sets the bar high. 40 hours of continued classroom training is mandatory to keep a NABCEP certification current. And many manufacturers work directly with NABCEP to create training programs that go a long way toward keeping roofs watertight.  
We can work with your original roofer to make sure warranties aren't voided. We also partner with a few local experts If you need a new roof. Dry customers are happy customers. Enough said- Let's put a lid on it.  -Lee Stilwater