We are living in an advanced age – so many things in our home have multiple purposes or multiple functions. Think about it – we still call our mobile device a phone, but how many of us use it only for sending and receiving calls? We do a lot more than talk on a phone; we find a restaurant with great reviews, send text messages, play games, and use GPS directions.
You know that meal around the dining room table with loved ones is irreplaceable, but these days, most of us love to eat while we watch tv…in the living room. Our sofa is playing double duty as the dinette. Even our garage is more than a place to park the car; it's a valuable storage space, a workspace, even sometimes a music room.
The modern home is now equipped and decorated for how we live our modern lives. We love storage solutions that are both useful and beautiful. If there is open space, it's filled with light to give us a sense of freedom in our homes.
Solar Power is Looking Up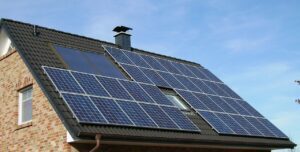 Now, let's talk about the roof of your home. For most California residents, the roof has a simple job: cover our houses from the elements: wind, rain, blinding Northern California sun. And really, that's all the roof does. Is it time to think on top the box? Since many garages do double duty as a workshop, and from Livermore to Sonora, backyards are both a place to grill and to garden, it only makes sense that your roof gets in on the action.
Going solar can help your roof have greater meaning in your life. Not only can it cover your living space, it can help cover your energy expenses (we're talking your electric bill.) With energy-generating solar panels to offset (even eliminate) utility costs, you'll be able to say that your roof truly 'has you covered.'
When you think about it, If you don't have solar energy at home, you have quite a bit of wasted space on top of your house. So think on top of the box; talk to us today about how much you can save with solar energy at home.
We proudly serve the following California communities (and beyond): Tracy, Pine Grove, Jackson, Stockton, Sacramento, Fresno, Dublin, Pleasanton, Livermore, Oakland, San Francisco, San Jose, Marin County, Sierra Foothills, Altamont Pass.