How many PG&E power outages have you been through so far this year? A battery backup system for your home or business could reduce that number to zero. But many of our customers have asked us, "How long will my battery last if my power goes out?"
Good news: Your battery backup system could give you power for several weeks, while continuing to charge from your solar panels … even while the power is out. Let's talk about that.
The Joy of Battery Backup Systems
A battery backup system, when used with your solar panels, it is not at all dependent on PG&E. The power from your panels is stored in the battery system connected to your home. For that reason, your lights stay on during a blackout. These solar energy systems will even generate electricity during a blackout, and you can store the excess energy that your panels produce in three ways: 
to avoid peak rates, 
for emergency use, or 
to go completely off the grid.
Your home doesn't have to be completely off-grid to benefit from a battery backup system. Hybrid systems are connected to PG&E's grid, but they also have battery storage options. A hybrid system will give you power during a blackout because it can run off of the battery-stored energy. If your system is properly managed, you'll keep your power on in case of a blackout.  
Debunking the Battery Myth
Some sources in the industry have stated that your battery will not charge unless you are receiving power from the grid. But at Synergy Power, we have seen solid evidence that a backup battery system CAN continue to charge during a blackout. 
That having been said, there are many systems, like the Tesla Powerwall, that require PG&E's connection to restart. Once they go dead, you must wait for PG&E to turn the power on. That's why these companies advertise that you'll only get a few days of backup power.  
The systems we sell are different. With a NeoVolta, Generac, or SolarEdge battery system, you can completely drain the battery, and can recharge with the power of the sun. So if your backup does get drained because you used too much power, you don't have to wait for PG&E – just the time it takes for the sun to come up and charge the battery.
As just one example, one of our customers whose power was out due to one of PG&E's PSPS events was still able to charge his batteries during the blackout. Because of sunlight where he lived, his battery storage went from 51% to 100% in less than four hours, all while there was no power. Check out the screenshots from his monitoring system.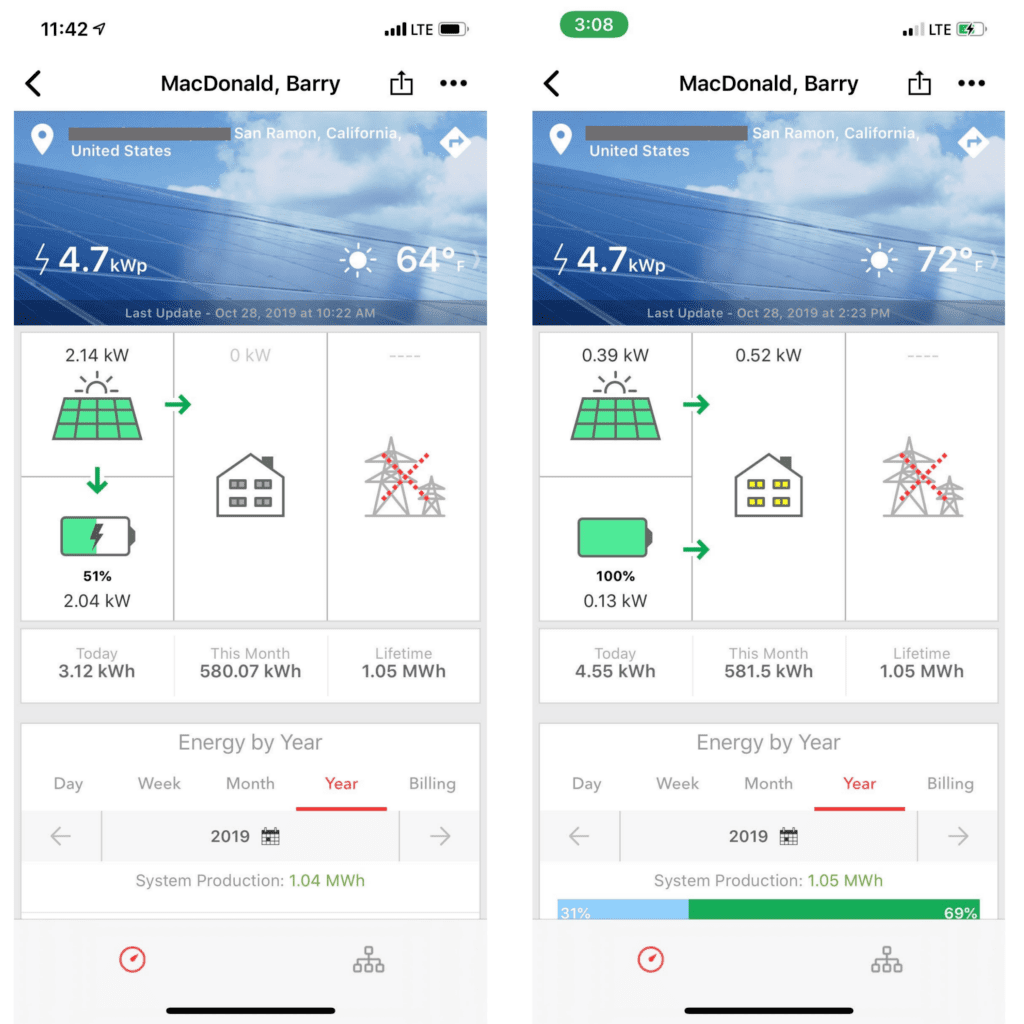 Solar Battery Options from Synergy
Especially for those in Northern California, battery backups can be a lifesaver – especially because of the unpredictable nature of PG&E's power system. 
At Synergy Power, we don't want you to be fooled by a brand name or a clever tag line; we want to help you choose a power option that provides for your needs in the long term. Some of the battery systems we install and service include: LG Chem RESU 10H, Generac PWRcell, Panasonic EverVolt, Blue Planet Blue Ion LiFePO4, Fortress Power, NeoVolta NV14, Sol-Ark, Schneider Electric, and StorEdge by SolarEdge.  
Some of these systems can work with the solar panels you may already have installed, or we can provide a complete solar and battery option. Whatever you need, we can help you find the right options.
If you would like to learn more about how a battery backup system can keep you going through a power outage, and how to get the right system for your exact needs, get in touch with us. Our team has over 16 years of experience in helping the Bay Area and beyond go solar. 
Have questions or want to start your solar journey? Feel free to call, or you can fill out the form and we'll be in touch right away.